Process of creating an ad
| | | |
| --- | --- | --- |
| | Process of creating an ad | |
First, you need to choose the plan. You can compare plans and estimate the budget on the Advertisement Plans page. Click "Create Now!" button of an according plan to select a plan and start creating an ad.

You can change your mind and select another plan at any point of the process of creating the advertisement.

When you change the plan you can be sure, that information you have entered will not be lost. If you select an inferior plan, which does not have the feature, that you have enabled, info will not be lost as well. It will not be visible, but you can switch back to the plan which has that feature and you will see it again.
If you see, that some feature settings in the form are faded and not active, that means, that the plan, that you have selected does not have these features available.

You can consult the Advertisement Plans page to see which features are available for the selected plan. DELIGHT package has all features that we offer, and all parts of the form are available.
Despite the size of the form, there are only two required fields. Those are the advertisement name and URL. Once they are filled, you can save the advertisement and activate it, if you don't want to use any additional features or add a description. To save the advertisement you can click on one of the "SAVE AD" buttons.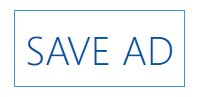 One of them is located in the "BASIC INFORMATION" section, another at the bottom of the page. When you click it, our system will check the advertisement and display a warning message if something is wrong. If you don't know what you should do to fix a problem, please, contact us.
If everything is OK, you will be redirected to the checkout page. At this point, your advertisement is already saved. Now you can instantly activate your advertisement by making a payment with one of 3 available methods: PayPal, Payza, or purchase balance. It may take up to 10 minutes after the payment to activate your ad. Usually it happens instantly. Clicking "Save and Pay Later" button will simply close the checkout page. If you have some doubts or want to edit your ad before activating it, you can click "Edit Advertisement" button and do necessary adjustments. You can't change the plan anymore, but, otherwise, you can edit your advertisement in any way you want. You can also close it by clicking "Save and Pay Later" and then edit it later.
That's it – once you fund your advertisement it is live and running. You can see it on the "View Ads" page, if you haven't excluded yourself by the targeting, or were not kicked by random distribution function. You can track stats, edit it at any time, pause and resume it and extend it by additional funding from "Advertise" page.
You also get 5000 bonus ad views for every $1 spent on GLANCE advertising, 7500 bonus ad views for every $1 spent on INTRODUCTION advertising, 10000 bonus ad views for every $1 spent on INSPIRATION advertising, 12000 bonus ad views for every $1 spent on DELIGHT advertising. You can use them to get additional views for your website for free.
| | | |
| --- | --- | --- |
| | | |