Process of creating an ad
| | | |
| --- | --- | --- |
| | Process of creating an ad | |
First, choose the plan. You can compare plans and estimate the budget on the Advertisement Plans page. Click on one of the appropriate "Create Now!" button to begin.

You can change your mind and select another plan at any point until the advertisement is saved Feel free to switch between the plans with no worries. When you select an inferior plan that does not have an advanced feature that you have enabled, the details you've already added will not be lost. If you can switch back to the plan that has this feature, you will see all of the details you've added, again.

If a plan doesn't have a certain feature available, the sections dedicated to it will look faded and will not be active.

You can consult the Advertisement Plans page to see which features are available for the selected plan. DELIGHT package has all features that we offer, and all parts of the form are available when you switch to it.
The form may look big, but there are only two required fields. Those are the advertisement name and URL. Once they are set, you can save the advertisement and activate it, if you don't want to use any additional features or add a description. To save the advertisement, please, click on one of the "SAVE AD" buttons.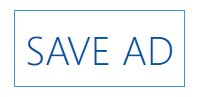 One of them is located in the "BASIC INFORMATION" section, another at the bottom of the page. When you click on it, our system will check the advertisement and display a warning message if something needs to be fixed. If you don't know what you should do to fix a problem, please, contact us.
If everything is OK, you will be redirected to the checkout page. At this point, your advertisement is already saved.
You can instantly activate your advertisement by making a payment with one of 3 available methods: PayPal, Payeer, or purchase balance. If PayPal or Payeer are experiencing technical issues or delays, it may take additional time to activate your ad. Please, contact us if your ad has not been activated within an hour.
If you have any doubts or want to check your ad before activating it, you can click on the "Edit Advertisement" button and do the necessary adjustments. You can't change the plan anymore, but, otherwise, you can edit your advertisement in any way you want. You close it by clicking "Save and Pay Later". The advertisement will be available for you to edit or activate later at your convenience.
That's it – once you fund your advertisement, it is live and running. You can see it on the "View Ads" page, if you haven't excluded yourself by the targeting, or were not kicked by a random distribution function. You can track stats, pause, and resume it, edit the ad at any time. You can also always extend it by adding more funds from the "Advertise" page.
Whenever you create a new ad or extend the existing one, you will receive complimentary bonus ad credits. You can use them to get additional views for your website for free, by creating a bonus ad here.
| | | |
| --- | --- | --- |
| | | |