| | | |
| --- | --- | --- |
| | Bonus ads | |
Bonus Ads are the complimentary extra ad views you get when you advertise on HeedYou. You also get 5000 bonus ad views for every $1 spent on GLANCE advertising, 7500 bonus ad views for every $1 spent on INTRODUCTION advertising, 10000 bonus ad views for every $1 spent on INSPIRATION advertising, 12000 bonus ad views for every $1 spent on DELIGHT advertising. You can use them to get additional views for your website for free.
They are displayed in a Bonus ad surfing system and are a much simpler and easier for our members to view. They surf them to win some small prizes and get points for a weekly lottery. Exposure is 5 seconds long and the view validation, in form of picture captcha, appears randomly with 20% chance. Next advertisement is opened by clicking on the "Next" button, without seeing any ad name or description in advance. Timer does not wait for the website to load, so if it is too slow it may not load at all while the timer is running. There is also no control that the window is on top or is big enough. One member can view up to 1000 bonus ads a day, so your ad may repeat multiple times a day.
Find the "You have x bonus credits" button on the "Advertise" page to open the bonus advertisement control page.

In order to start, simply click on the "ADD NEW" button. Enter the link to your website in "Link (URL)" field. Then, choose how fast you want to receive the traffic in the "Percent of Active Members" field. 100% means that your advertisement will be displayed as much as possible, 1% will result in your ad showing up very rarely. If your server does not offer the good performance you may want to set the lower percent. Finally, choose how many Bonus Credits you would like to assign to the advertisement in the "Add Bonus Credits" field. When you are done creating an ad, click on "SAVE" button to save it.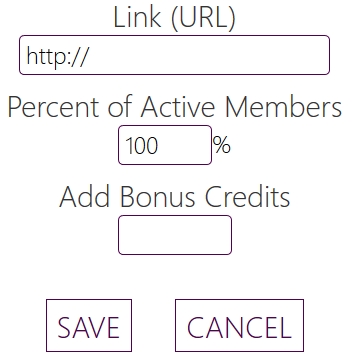 It will be activated and available for our members instantly. Repeat that to add more.
If you want to edit a certain advertisement, click on a small button with a pencil next to it to do it. Once you are done, click on the "SAVE" button. If you want to delete some message, click on a small button with a red cross next to it. Click on the "DELETE" button to confirm it. Any credits that are still unused will be lost. Click on a button with a Bonus Credit sign ("B" in a circle) to assign the additional credits to your advertisement. If you have clicked on the "ADD NEW", edit or Bonus Credit button and changed your mind, simply click on "CANCEL".

| | | |
| --- | --- | --- |
| | | |